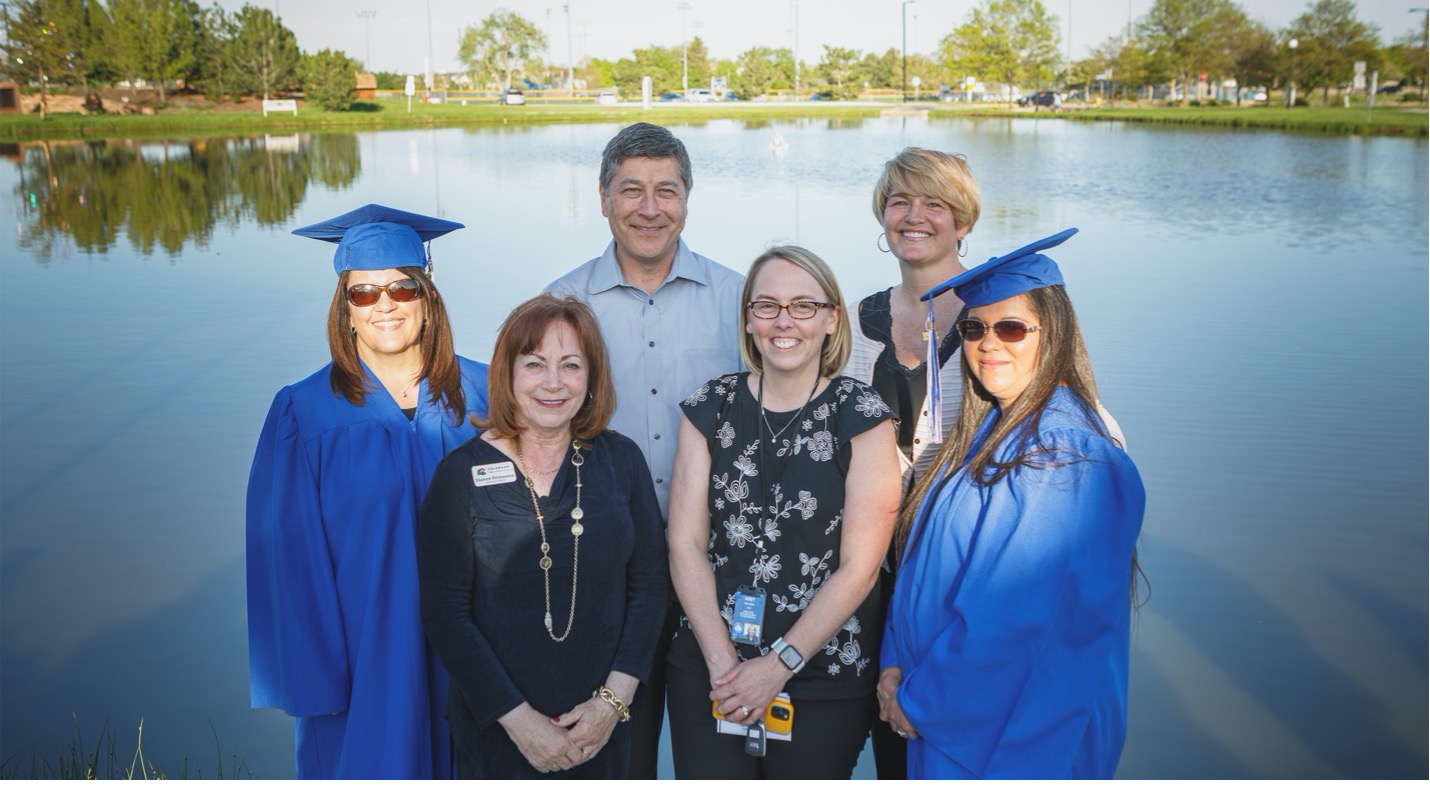 FOR THESE FULL-TIME WORKING MOMS, EARNING A HIGH SCHOOL DIPLOMA IS A BRIDGE TO NEW COLLEGE AND CAREER OPPORTUNITIES
 The City of Broomfield and the Broomfield Library honored two adults who, years after leaving high school, earned their high school diplomas through the Career Online High School (COHS) program offered by the public library.
Jennifer Peña, 49, and Cherisse Gallegos, 35, were joined by their families, city officials, and Lieutenant Governor for the State of Colorado Dianne Primavera to commemorate the special occasion.
During her commencement speech, Lieutenant Governor Primavera emphasized the challenges the two working mothers overcame to earn their diplomas during the pandemic.
"This pandemic has widened the cracks in our system," she said. "Over the past year, more women have been displaced from the workforce or taken on double duty since the 1980s. They are navigating the world of remote learning for their children while working to put food on the family table."
"This forward-looking, technically savvy, and career-focused education you all worked your tails off to receive—through what was one of the most difficult years in our state's history—will serve you well as we move into the next decade," she continued.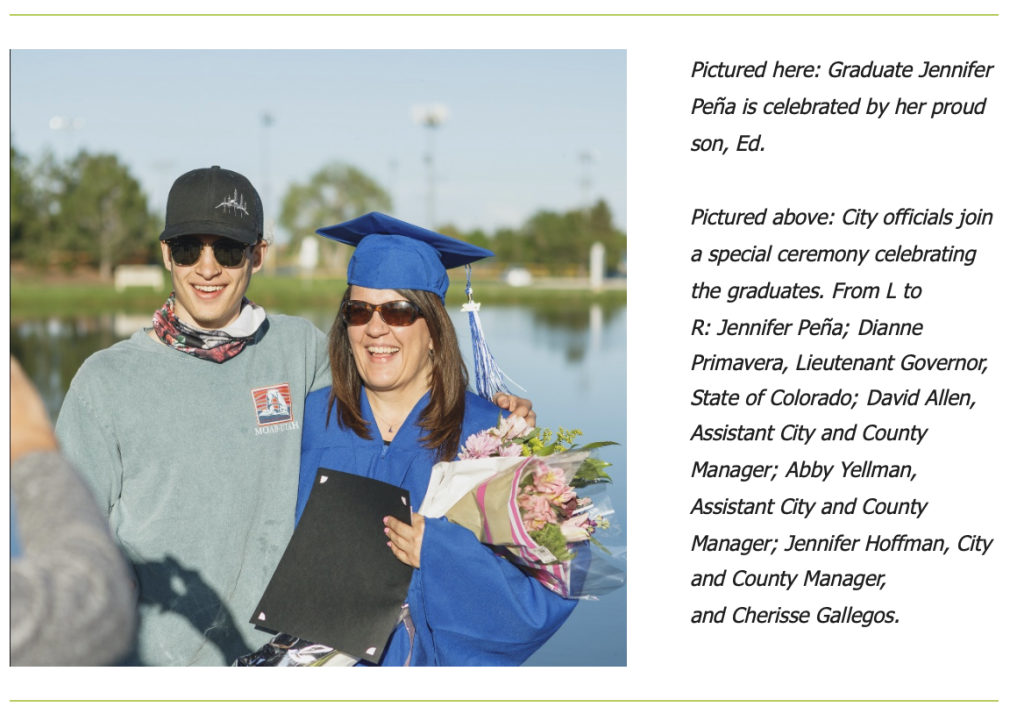 Graduating with a diploma, a certificate, and a renewed sense of pride
Through its partnership with COHS, the Broomfield Library offers a fully online high school program, including a 24/7 online classroom, personal academic coaches, and real-world career training. The library also grants scholarships as part of its high school education programming.
In addition to an accredited diploma, COHS students graduate with an entry-level workforce certificate in their chosen career path, plus a resume, cover letter, and other tools to start or advance their careers.
They also graduate with an immense sense of pride and accomplishment.
"There were times when I would get discouraged or want to give up," said Jennifer. "At some point, I received an email from my academic coach telling me what my options were if I didn't finish [the program]. I was determined to not let myself take that out. I was going to finish and I was going to graduate."
"Without COHS—and the support I've received—I wouldn't be here receiving my diploma today. In the fall, I'll be starting at Arapahoe Community College in the paralegal program," she said.
Cherisse also reflected on her experience earning her diploma.
"I want to assure anyone out there that doesn't think they can earn their high school diploma, you can," she said. "And to my oldest daughter who is still trying to earn hers, I know you can do it."
Cherisse's husband, Felix Gallegos, echoed this sentiment, recognizing his wife's tireless efforts of balancing work and schoolwork, and praising her for setting a good example for their children to complete their education.
From setbacks to success in college and career
According to the 2020 U.S. Census Bureau report, there are more than 460,000 adults living in Colorado who lack a high school diploma—a difficult roadblock when it comes to applying to college or advancing in a career.
"Libraries offer a safe, supportive environment to foster learning and community. Our high school education program for adults is a natural extension of library services that empower adults to learn and grow," said District Superintendent Dr. Howard Liebman. "81% of our graduates pursue post-secondary education including community colleges, vocational schools, and bachelor's degree programs."
In the state of Colorado, COHS students have matriculated into:
Arapahoe Community College
Colorado State University
Colorado Technical University
Colorado Technical University – Online
Community College of Aurora
Community College of Denver
Front Range Community College
Lamar Community College
Metropolitan State University of Denver
Pikes Peak Community College
Pueblo Community College
Red Rocks Community College
Rocky Mountain College of Art & Design
University of Colorado – Denver
The world's first private accredited online school district, COHS has partnered with more than 150 library systems across the country.
To learn more about the program, including how to enroll and available scholarship opportunities, visit the Broomfield Library website.