Initial State of Florida Department of Corrections data show fewer people return to prison after earning high school diploma
Smart Horizons Career Online Education (SHCOE) has released its first set of recidivism data for its online high school program delivered in Florida Department of Corrections (FDOC) facilities. The program, which launched in the FDOC in 2012, shows an 11.6% recidivism rate. This improvement over the FDOC's most recent 3-year recidivism rate of 25%1 amounts to millions of dollars of savings for Florida taxpayers.
Research Shows Education in Prisons Lowers Recidivism
Studies have demonstrated that incarcerated individuals who receive education in prison are 30% less likely to return than those who do not receive education.2,3 The studies also noted that there was no statistically significant difference in learning between computer-assisted instruction and traditional instruction. FDOC records indicate that of the 95 incarcerated individuals who graduated SHCOE between 2012 and 2013 only 11 have returned to prison within 3 years of their release.
Reducing Recidivism Saves Taxpayers Money
It costs $19,577 per year to house an incarcerated person in a Florida prison,1 according to FDOC. The decrease in recidivism rates for those who graduated from the online high school while incarcerated indicates that the program has saved state taxpayers $1.2+ million dollars. Improvements in recidivism among online high school students has the potential to continue saving taxpayers millions more dollars. The projected recidivism rates for all FDOC online high school graduates (714) equates to a projected savings of $9.3+ million. (See Chart.)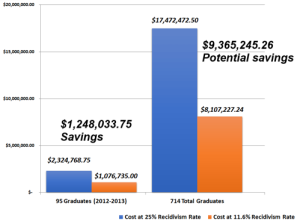 Program Receives National Attention; Praise in Florida
The U.S. Department of Education's Educational Technology In Corrections 2015 report named SHCOE a primary example of a successful Internet-based education program for corrections. In addition, Dr. John Linton, former Director of the Department of Education's Office of Correctional Education, stated that "Florida is leading correctional education across the nation in making on line learning opportunities available to adult prisoners."4 Wardens in the FDOC also praised the program for its ability to help people stay out of prison and find jobs after release.
Workforce Training Included in Program
Along with earning an accredited high school diploma, students complete a Career Certificate that prepares them with the professional skills needed to seek employment upon reentry. In addition, the core curriculum includes real-world life skills such as financial literacy, budgeting, anger management, conflict resolution, and communication skills.
Expanding Education Services to Lower Recidivism and Save Money
SHCOE realizes that this data is preliminary. However, these initial findings are congruent with the most recent data on correctional education's effect on reducing recidivism. The anticipated savings through reduced recidivism of online high school students are significant. There is also considerable opportunity to grow and expand these types of educational programs—of the 35,117 incarcerated people released from prison in 2010–2011, 69.5% of those eligible for academic programs did not receive services prior to release.5
To Learn More:
Visit the SHCOE website
View the Brochure
Read the FDOC's Press Release on program's 2014 expansion
The FLDOC Online Campus is sponsored by Smart Horizons Career Online High School, LLC and the State of Florida Department of Corrections.
1 Quick Facts About the Florida Department of Corrections. (2015, February). [Official site]. Retrieved from http://www.dc.state.fl.us/oth/Quickfacts.html
2 Davis, L., Steele, J., Bozick, R., Williams, M., Turner, S., Miles, J., … Steinberg, P. (2014). How Effective Is Correctional Education, and Where Do We Go from Here? The Results of a Comprehensive Evaluation. Bureau of Justice Assistance, US Department of Justice.
3 Corrections Rehabilitative Programs Effective, but Serve only a Portion of the Eligible Population. February 2007. See http://www.oppaga.state.fl.us/Reports/pdf/0714rpt.pdf
4 Online Career Education for Inmates Status Report to the Florida Legislature (December 2014)
5 Office of Program Policy Analysis & Government Accountability, an office of the Florida Legislature, Corrections Rehabilitative Programs Effective, but Serve only a Portion of the Eligible Population. February 2007. See http://www.oppaga.state.fl.us/Reports/pdf/0714rpt.pdf