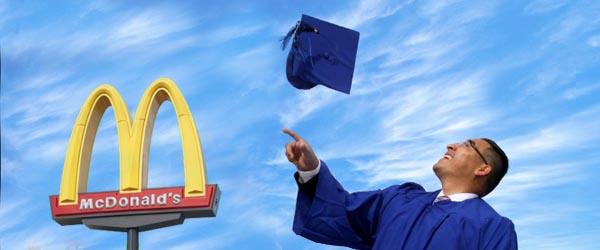 Innovative Employee Education Program Delivers AdvancED/SACS Accredited High School Diplomas to Eligible Employees in McDonald's Restaurants
Chatsworth, CA, April 30, 2015 — Juan Garcia today was recognized as the first McDonald's graduate of Cengage Learning's Career Online High School (COHS), an innovative online education program being offered to qualifying employees working in company-owned and franchise-owned restaurants. A graduation ceremony honoring the achievement was held at McDonald's during a district manager's meeting.
"On behalf of the entire faculty and staff at Smart Horizons Career Online Education (SHCOE), we would like to congratulate Juan on earning his high school diploma from Career Online High School, " stated SHCOE's CEO and Superintendent of Schools, Dr. Howard Liebman.  "Cengage Learning's COHS was developed with students just like Juan in mind.  We're honored to partner with Cengage Learning and McDonald's to help McDonald's employees earn their high school diplomas and entry-level workforce certificates."
As part of the McDonald's "Archways to Opportunity™," a groundbreaking new employee education strategy promoting workforce education, COHS provides opportunities for career certificate training and accredited high school diplomas. Through its partnership with Cengage Learning, up to 1,000 employees of McDonald's or its independent franchisees are expected to complete an entry-level workforce training (elective) course and move on to complete the entire Cengage Learning COHS diploma program.
"We are so proud of Juan and his achievement, which marks the first of many celebrations to come here at McDonald's," said Rob Lauber, Chief Learning Officer at McDonald's. "As part of our Archways to Opportunity education strategy, we are pleased to be working with Cengage Learning's Career Online High School to make a high school diploma possible for our people — along with our other robust education and life skills building opportunities."
Having received his high school diploma and career training, Juan has already enrolled in college and is attending College for America, making continued use of McDonald's Tuition Assistance benefits. "At McDonald's, we believe that education is the true game-changer and we're proud to provide tools and world-class training that help our people succeed," said Rich Floersch, Executive Vice President of Global Human Resources, McDonald's Corporation.
Juan is a General Manager in a restaurant in the Southern California region. Although he finished high school and began college in his native Mexico, when he moved to the US, his diploma was not recognized. He remembers:  "One day, I received an email from McDonald's about Archways to Opportunity and how I can go back to school. The Career Online High School was free and online – so there was no reason not to do it. My Supervisor agreed; he saw the importance of education."
"Juan Garcia reminds us of the everyday heroes among us.  His dedication and perseverance make his milestone achievement a cause for celebration," said Ron Stefanski, Executive Director of Strategic Alliances at Cengage Learning. "Through partnerships with visionary companies such as McDonald's, we see great opportunity to impact workers directly.  With a shortage of skilled workers for today's workforce, there is a clear need to change the game for front-line workers with learning and training opportunities leading to marketable and nationally recognized credentials."
COHS was developed in 2012 through a partnership by Cengage Learning and Smart Horizons Career Online Education in an effort to provide affordable and accredited, career-based opportunities for the millions of adults in the United States without high school diplomas. COHS serves a number of leading organizations with opportunities for employees and communities, such as Brown Mackie College, Kinexus, the Workforce Development Council of Seattle-King County, and other corporations, non-profits and public library systems.
Images and video from the graduation ceremony held will be available upon request. To learn more about the COHS program and partnership opportunities, please visit http://www.careeronlinehs.org/.
About Cengage Learning
Cengage Learning is a leading educational content, technology, and services company for the higher education and K-12, professional and library markets worldwide. The company provides superior content, personalized services and course-driven digital solutions that accelerate student engagement and transform the learning experience. Cengage Learning is headquartered in Boston, MA with an office hub located in San Francisco, CA. Cengage Learning employees reside in nearly 40 different countries with company sales in more than 125 countries around the world.  www.cengage.com.
About Smart Horizons Career Online Education
Smart Horizons Career Online Education, founded in 2009 and located in Pensacola, Florida, is a private, AdvancED/SACS accredited online school district. AdvancED/SACS District accreditation signifies that SHCOE and all of its schools are fully accredited and that SHCOE is recognized across the nation as a quality school system. Smart Horizons Career Online Education offers 18-credit, career-based high school diploma programs that are designed to prepare students for entrance into the workplace. Career certificate offerings include Childcare Education, Office Management, Protection Services, Homeland Security, Transportation Services, Professional Skills, Retail Customer Service Skills, and Food & Customer Service Skills.