Through the Archways to Opportunity Program, McDonald's finances and supports competency-based educational pathways, setting the foundation for employee commitment, growth, and success.
From high school graduation to college enrollment, McDonald's Archways to Opportunity program is offering employees a pathway to greater educational and career advancement. Thanks to partnerships with academic institutions such as Career Online High School (COHS) and Southern New Hampshire University's College for America (CFA), employees can seamlessly transition from one credential to the next, moving from entry-level to mid-level skills training as they go.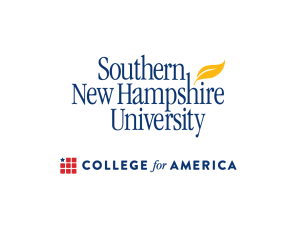 Both COHS and CFA are accredited, competency-based, and online—a combination that works for working adults who may be returning to school after a long absence. Chanell Jefferson, a dedicated McDonald's employee, is one such example. At the age of 36, she recently went from high school dropout to college student through the Archways to Opportunity program.
Chanell began working for McDonald's in 2001 as a crewmember, advancing to become a general manager overseeing three restaurants. After earning her high school diploma from COHS, she was promoted to Supervisor. She immediately enrolled in CFA, where she is currently working toward an associate's degree in business administration.
"I am learning so much," said Chanell. "My education has helped me manage and train my employees and better understand the business side of my job, as well."
Making Education Obtainable for Working Adults
"McDonald's program made it really easy for me to go back to high school and now to college," said Chanell. "The flexibility is great. Both COHS and CFA can be completed online, on my own schedule. I've learned how to manage my time around studying and getting work done. It isn't easy, but I am able balance school, work, and my home life. I also really like that both schools are competency-based, and I don't have to worry about constantly taking tests."
Chanell says the curriculum at COHS prepared her well for academic success at the college level at CFA—and Sarah Normand, a Strategic Partnership Manager at Southern New Hampshire University, agreed: "The transition from COHS to our CFA program is seamless for students like Chanell. Both schools provide competency-based learning, delivered online, with extensive support services. McDonald's is providing a great pathway for its employees to advance their education and their careers."
Chanell encourages her staff to take advantage of the Archways to Opportunity programs every chance she gets. "I tell them they would be surprised to learn how many of their high school credits transfer into COHS. I remind them that McDonald's will pay for 100% of your high school education and help pay for college, too—the company is really dedicated to our success."
Enveloped by Support
Chanell notes that the support she received from her McDonald's franchise owner was a key component to her success. "When he learned that I was getting my high school diploma, he was really excited," she said. "I had always been embarrassed about not having a high school diploma. But I worked hard and was proud of myself—and I felt like I was being a good example to my staff."
"Chanell's work ethic and passion is unbelievable," recalled her owner–supervisor. "Just seeing how relentless she has been in reaching for her goals and dreams has been an inspiration to our organization. We celebrate employees that want to further their education."
In addition to her McDonald's supervisor, Chanell also credits her academic coach at COHS to helping her through the tougher times. "She called me every week. She answered all of my calls, she was a huge cheerleader for me. She emailed me quotes and phrases and wouldn't let me give up, even when I tried."
Motivated by Her Family
Chanell was motivated to return to school for both personal and professional reasons. "Not only did I want to set a good example at work, I also wanted to be an inspiring role model for my kids," she said. "Now I really understand when they struggle on homework—I'm there along with them as I work toward my college degree now!"
She says her husband was one of her top supporters, and says he is proud of her, as are her children.
"My family was a huge influence. I wanted to show them that it is never too late to realize your dreams. I wanted to show them never to give up—to live up to their fullest potential."
To learn more about the program, visit: archwaystoopportunity.com.
About McDonald's USA
McDonald's USA, LLC, serves a variety of menu options made with quality ingredients to approximately 27 million customers every day. Nearly 90 percent of McDonald's 14,000 U.S. restaurants are independently owned and operated by businessmen and women. Customers can now log online for free at approximately 11,500 participating Wi-Fi enabled McDonald's U.S. restaurants. For more information, visit www.mcdonalds.com, or follow us on Twitter and Facebook.
About Southern New Hampshire University
SNHU is a nonprofit university, fully accredited by New England Association of Schools and Colleges (NEASC). Our programs are workplace-relevant, which means students gain skills that make them career ready from day one. Visit snhu.edu/workforce-partnerships to learn how we partner with organizations like yours.
About Career Online High School
Career Online High School was developed in 2012 through a partnership by ed2go, a division of Cengage that provides students with online continuing education and career training, and Smart Horizons Career Online Education in an effort to provide affordable, career-based online education opportunities for the millions of adults in the United States without high school diplomas. Visit careeronlinehs.org for more information.