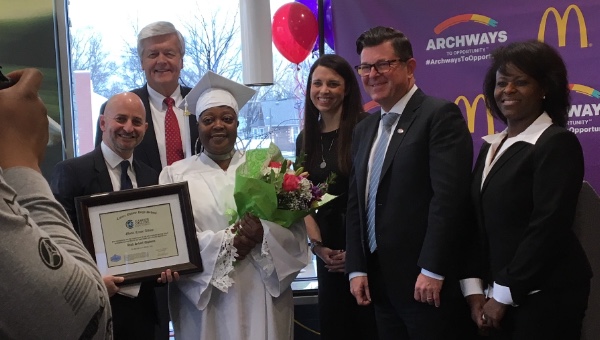 Announcement made at graduation ceremony honoring Career Online High School graduate 
Last week, McDonald's announced that it will allocate $150 million over five years to its global Archways to Opportunity education program. The company will also extend Cengage Learning's Career Online High School (COHS) and other educational services to restaurant employees' family members.
The announcement was made at a graduation ceremony in Indianapolis celebrating recent Career Online High School graduate Gloria Atkins, shown below with Dr. Howard Liebman, District Superintendent of the COHS' district. Read more about the graduation ceremony.
"Since its inception, Archways to Opportunity was meant to match the ambition and drive of restaurant crew with the means and network to help them find success on their own terms," said David Fairhurst, McDonald's Chief People Officer, who attended the ceremony. "By tripling tuition assistance, adding education benefits for family members and lowering eligibility requirements to the equivalent of a summer job, we are sending a signal that if you come work at your local McDonald's, we'll invest in your future."
Highlights of the expanded benefits include:
Increased tuition investment: tripling tuition assistance for crew; increasing from $1,050 to $3,000 for managers; and no lifetime cap
Lowered eligibility requirements: from 9 months to 90 days
Expanded benefits to families: Families can attend COHS via Cengage and access College Advisory services through Council for Adult and Experiential Learning (CAEL)
Dropping minimum shift requirements: from 20 to 15 hours to give employees more time to work on studies
"McDonald's is making it easier for workers to access education benefits and they are making those benefits more generous. The fact that they are extending the Career Online High School program and their college advisory services to family members of workers can be game changing for some families," said Jamie Fall, director, The Aspen Institute's Upskill America in McDonald's press release. "Plus, paying the tuition up-front for workers instead of through a reimbursement process allows far more workers to take advantage of the program. These are all very positive advancements to their Archways to Opportunity program."
Visit McDonald's Newsroom for the complete story.