Mom of four aims to become more independent in a career she loves; and to help give back to others
Donetta McFarlane earned her high school diploma through the Broward County Library and Smart Horizons' Career Online High School to pave a path toward a better life for herself and her four children. She is now enrolled in Daytona State College earning her bachelor's degree to start a career as a paralegal in immigration and legal aid. Read her story below: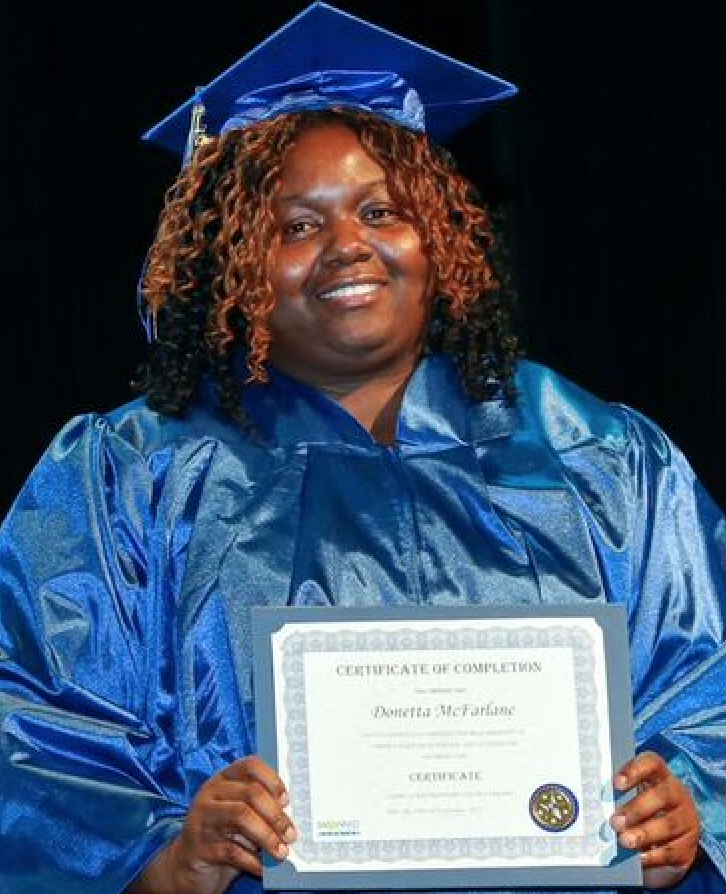 Donetta McFarlane's career goal is to become a paralegal. She was motivated by words of encouragement at an accounting firm where she worked, and years earlier she had started a program in legal administration—but couldn't finish due to her lack of a high school diploma. She had always been good at research, prioritizing, and thinking ahead.
"I feel a real calling to the field of law," she said. Donetta also likes to help others.
She decided to put a plan into action to get herself and her children to a better place financially. Donetta, 35, is a single mother with four children ages 10 to 19, and doesn't have the support of any other family. "I'm all on my own," she said. "Nobody is going to help me make a better future. It's all up to me."
Donetta spends a lot of time in the library, which also provides free Wifi. It was in the Broward County, Florida, public librarywhere she learned about the Smart Horizons' Career Online High Schoolprogram. She always wanted to improve her life, but until she learned about this free program she didn't know where to start.
"Smart Horizons was an excellent option for me," Donetta said. "Going back to high school was a lot of hard work, but definitely worth it. My diploma opened the door to college for me so I can increase my wages and become more independent. The library staff was so helpful. I am really excited about my family's future now!"
It took Donetta 15 months of hard work, and she has no home Wifi so she had to go to the library and the local hospital after hours while she went to school and worked full time. She had to learn to manage her time and to survive on a lot less sleep. She and her children made a lot of sacrifices, but Donetta persevered.
"It was really hard getting in the swing of things at first," Donetta said. "My Academic Coach helped me so much. I never felt alone. She kept me motivated and sent me emails every day. For the first time in my life I actually got As on my papers! The history was really interesting, but the math was definitely hard for me. But I didn't give up. And I really enjoyed the nutrition classes, which are helping me make healthier choices for my family."
Donetta graduated from high school with a certificate in office management, which she found very helpful. She is now enrolled in the paralegal associates program at Daytona State College with the goal of earning her bachelor's degree, as well.
Donetta would like to work as a paralegal in immigration and legal aid.
"I am excited for the future. I am showing my kids that with motivation and hard work you can pick yourself up and you can do anything you put your mind to!"