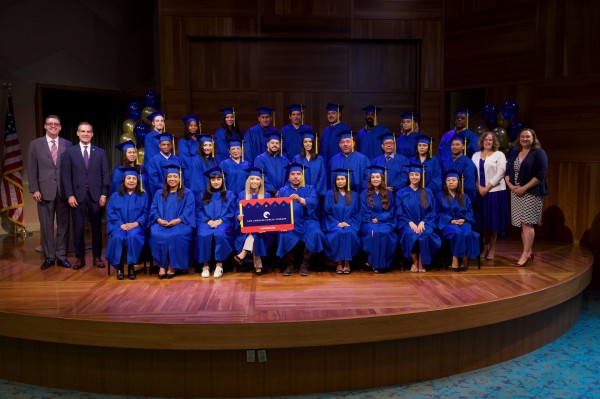 We've reached another milestone! Late last month, the Los Angeles Public Library celebrated the 200th graduate from their Career Online High School (COHS) program. Congratulations to them and all of the library's graduates since 2014!
"We are very proud of and excited for the 200 (and counting!) graduates of COHS at the Los Angeles Public Library," said SHCOE Superintendent Dr. Howard Liebman. "Seeing these students transform and improve their lives by earning an accredited high school diploma is a true representation of our mission."
The graduates attended COHS free of charge via a scholarship program available to local residents. In addition to the high school diploma, the program includes a workforce readiness certificate, which prepares students for employment in a specific career field. The library launched the program in 2014 to re-engage adults into the education system and prepare them for entry into post-secondary education or the workplace. COHS has now expanded to more than 30 public libraries across the state of California, and hundreds of libraries nationally.
Los Angeles has among the nation's highest high school dropout rates, with upwards of 25 percent of adult residents lacking a high school diploma, according to U.S. Census Bureau statistics. In some areas of the city, as many as 60 percent of adults do not have a high school diploma.
"All of us have different reasons why we didn't complete our high school diploma, whether it was taking care of our families, having to work multiple jobs, or something else that prevented us from finishing," said Angie Velasquez, one of the library's first graduates. "But there is one thing that we all have in common and that is determination. If it were not for COHS, I wouldn't be working where I am now."
Congratulations to these 200 graduates who show that it's never too late!
ABOUT CAREER ONLINE HIGH SCHOOL
Career Online High School was developed in 2012 through a partnership by ed2go, a division of Cengage that provides students with online continuing education and career training, and Smart Horizons Career Online Education in an effort to provide affordable, career-based online education opportunities for the millions of adults in the United States without high school diplomas. For more information, visit careeronlinehs.org.