Delaware and Ohio Adults Residing in Leon N. Weiner Affordable Housing Complexes Can Now Earn Career-Credentialed Diplomas
Cengage Learning's Career Online High School (COHS) and the Leon N. Weiner Education Foundation (LNWEF) today announced a high school scholarship program for those living in Leon N. Weiner & Associates, Inc. (LNWA, Inc.) affordable housing complexes. Residents in participating properties can now earn an accredited online high school diploma plus a career certification at no cost to the student.
LNWA, Inc. is a nationally recognized leader in affordable housing founded by Leon N. Weiner—a tireless advocate for fair housing known as "the conscience of housing in America." But more than providing housing to 15,000 people across 10 states, his legacy lives on in LNWEF, which brings unique educational opportunities to residents, including college scholarships, K-12 tuition, grants for enrichment activities like summer camps, tutoring, school trips, and after-school programming.
COHS, which can be completed on computers in the community room at each location, is LNWEF's latest offering. "So many doors are closed to people who do not have a high school diploma," said Donna Curtis, LNWEF Grants Committee Chair. "LNWEF wants to help the parents and young adults in our communities get theirs."
She said that COHS is the perfect fit for her organization. "We share the goal of providing real opportunities to people ready to take advantage of them. COHS offers a true education, not just a piece of paper. They listened to people who dropped out of high school and created a program built for their success."
The partnership was kicked off with onsite meetings at each of the housing complexes, where residents, mostly mothers, many of multiple children, learned about the program. They shared their reasons for enrolling: "I got passed over for jobs because of not having a high school diploma even though I was qualified," said one prospective student. "I want to be able to help my kids with their homework," shared another.
Jessica Walker, a resident of the Stoneybrook Townhomes in Claymont, Delaware, said this is finally her time to succeed. "I want to get my high school diploma because I have six kids and they all graduated, and I want to do it, too."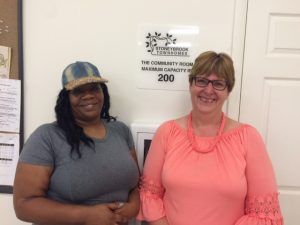 Not only does she want to be good example to her children, Jessica also needs the program in order to qualify for additional career credentials: "I have a lawyer who wants to sponsor me to get my paralegal degree and I was too embarrassed to tell him I did not have my high school diploma. With this program I am able to get my high school diploma so that I can further that opportunity."
In addition to the Stoneybrook Townhomes, the program has launched at Carleton Court Apartments in Newark, Delaware, and Oak Hill Village in Willoughby, Ohio. "We are very excited about the partnership and the opportunities it can provide to families who live in LNWA, Inc.-owned communities," shared Ms. Curtis. "From day one, COHS has been creative, flexible, and enthusiastic in their dealings with us. Without sacrificing quality, they have made adjustments that make it possible for us to offer this wonderful opportunity to our residents."
Image: Resident Jessica Walker (left) and Denise Neale of LNWA, who inspired residents by sharing her personal journey of having been a high school dropout herself, but completing her education and going on to graduate from college and have a successful career.
About Leon N. Weiner Education Foundation
The Leon N. Weiner Education Foundation (LNWEF) is a 501(c)(3) non-profit organization established in 2004 as a lasting tribute to its namesake and his life-long passion and thirst for knowledge. The LNWEF provides educational support to families living in Leon N. Weiner & Associates, Inc. (LNWA, Inc.) communities. For more information, visit weinereducationfoundation.org.
About Career Online High School
Career Online High School was developed in 2012 through a partnership by Cengage Learning and Smart Horizons Career Online Education, in an effort to provide affordable, career-based online education opportunities for the millions of adults in the United States without high school diplomas. Since its launch, Career Online High School has been recognized as part of a Commitment to Action by the Clinton Global Initiative and acknowledged at the White House College Opportunity Summit. Visit careeronlinehs.org to learn more.