From Vocational Training Schools to Community Colleges to 4-Year Universities, Our Graduates are Taking the Next Step toward their Educational and Career Dreams!
Smart Horizons Career Online Education (SHCOE) is excited to announce our 2019 post-secondary enrollment list. The list includes trade schools, technical training programs, 2-year colleges, and state universities across the country. Currently, more than 80 percent of our graduates have enrolled in or plan to enroll in post-secondary education.
"We are so proud of our graduates for taking the next step to advance their education and careers. The wide array of programs they choose shows that wherever our students are is exactly where we meet them," said Dr. Howard Liebman, SHCOE's District Superintendent.
Recent Graduate Success Stories Include:
Donetta, a single mother of fourwho just completed her paralegal associate's degree from Daytona State College and is starting her accounting degree (pictured below with college diploma)
A student who matriculated into top-ranked Georgetown University for graduate school after completing her undergrad at South Carolina State University
Sharonda and Sherita, twin sisterswho used their diplomas to enter dental assistant and nursing programs (below in their school scrubs)
Maurice, a former L.A. high school dropoutnow attending Los Angeles Trade-Tech College with future plans to pursue a legal career (above left)
Bonita, a 63-year-old McDonald's employee planning to enter her local community college (above right)
And hundreds of students who enrolled in training and technical programs to pursue careers as electricians, home care professionals, barbers, security officers, child care workers, food services managers, and many other occupations
We wish them well as they embark on the next stage of their educational journey!

We want to celebrate you! Send us your picture with something representing your college or new program. Ideas: In a t-shirt or hat or uniform from your school; on your campus or on a computer working on a course; or holding an acceptance letter. Or print out the sign below and fill it out and hold it up! Get creative!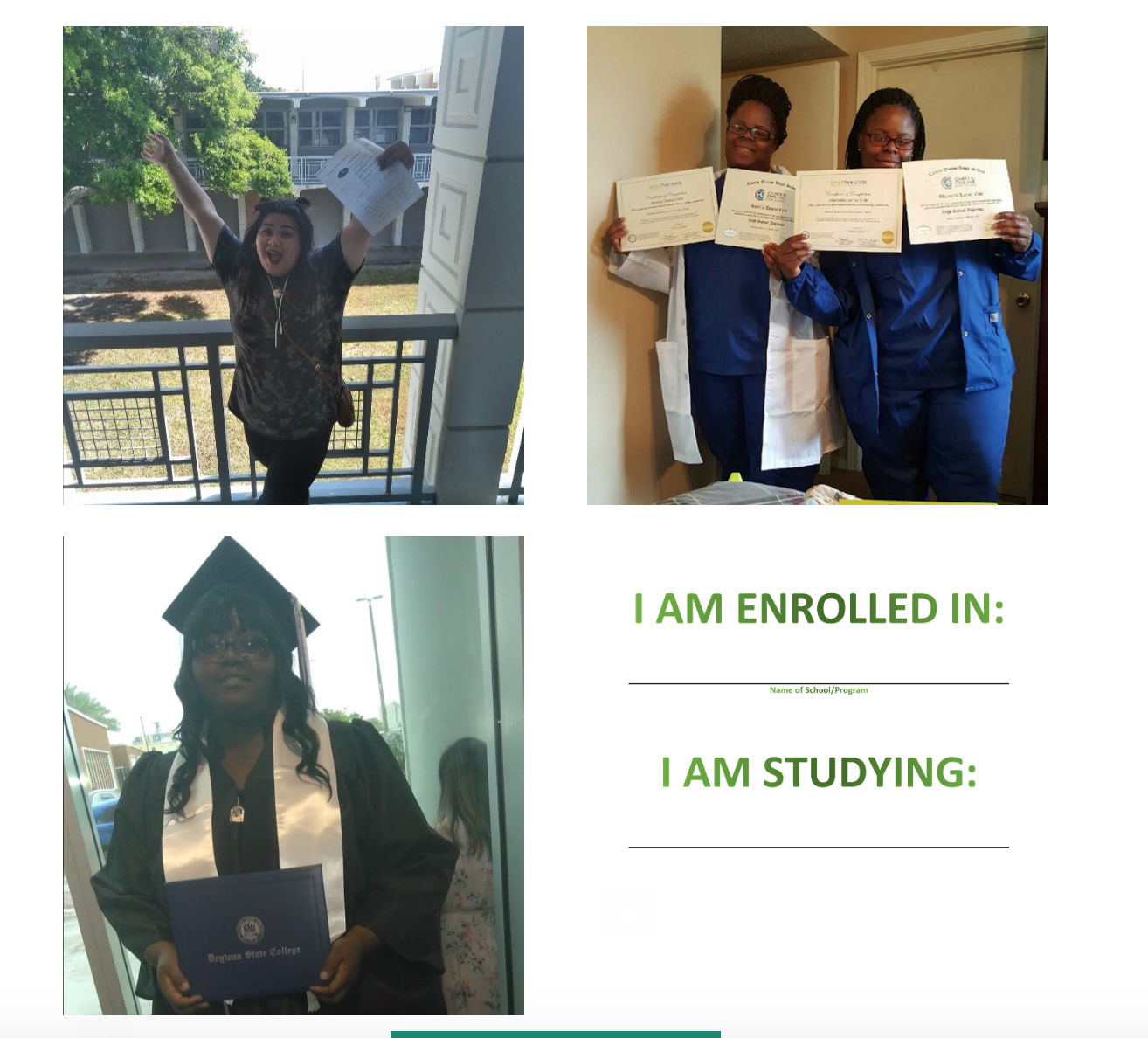 View the list of post-secondary institutions.
Sources:
List of Colleges: National Student Clearinghouse
81% plan to enroll in college: Smart Horizons Career Online Education, graduate exit surveys, 2015–2019