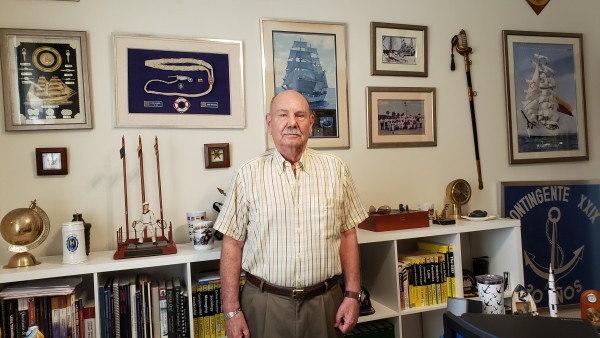 After a Successful Career and Advanced Education Degrees, Accomplished Naval Pilot Earns the High School Diploma that Always Eluded Him
---
Having already earned 9 master's degrees and a bachelor of science degree, 82-year-old Robert de la Garza is coming full circle with his academic achievements. During his illustrious career he served in both the Columbian and U.S. military and even taught at the U.S. Naval Academy in Annapolis. After working for nearly 30 years as a pilot, he came to Smart Horizons to earn the diploma that puts the finishing touches on a respected career and education. Here, he shares his story with us:
---
"My academic history parallels 'The Curious Case of Benjamin Button,' a short story by F. Scott Fitzgerald. Rather than being born an old man and growing younger, I started out with a master's degree and then worked backwards.
I was born in Jersey City, New Jersey (1937); grew up in Scarsdale, New York; learned Spanish in Havana, Cuba; and joined the Colombian Naval Academy in Cartagena, Colombia (1957). The academy only required the completion of the tenth grade and was treated as a trade school. After five years of intense math and science, I graduated as an Ensign in the Colombian Navy (1961) with neither a high school diploma nor a college degree.
I was commissioned an officer in the U.S. Navy (1962) and sailed for two and a half years, mostly in the Mediterranean. Then the Navy sent me to the U.S. Naval Academy in Annapolis, Maryland, where I taught navigation for a year and Spanish for three more years. At the same time, I studied nights at the Catholic University in Washington, D.C. and summers at Middlebury College in Vermont. In 1968 I received a Master of Arts Degree in Spanish from Middlebury College (my first academic document). After the academy, I spent a year at sea off Vietnam, left the U.S. Navy (1969), and joined the U.S. Merchant Marine. I sailed for eleven years, mostly in the Pacific, working my way up from third officer to captain. When I got married, it was time to come ashore.
I spent the next 28 years (1981–2009) working as a pilot in the Panama Canal, which gave me the opportunity to continue my studies. I started out by earning a Bachelor of Science Degree from Nova University in Fort Lauderdale, Florida (my second academic document), followed by two more master's degrees from Nova. For a change, I moved on to the Panamanian education system, where I was granted six more master's degrees. When I retired from the Panama Canal, I had nine master's degrees, but I still did not have a high school diploma, so…here I am."