Session titled "Getting High School Dropouts to Drop Back In"
Austin, TX, March 8, 2017 — This week, Career Online High School (COHS) joined McDonald's and Cengage at SXSWedu in Austin, Texas. Their panel, "Getting High School Dropouts to Drop Back In," brought together former US Representative George Miller; Lisa Schumacher of McDonald's; Ron Stefanski of Cengage; and Dr. Howard Liebman of COHS, to examine how innovative programs in the public and corporate sectors can help solve the dropout crisis. The session took place Tuesday, March 7 at 11am CT.
In the last five years, the COHS program has been delivered to adults and older youths via scholarships through corporations such as McDonald's, public libraries, nonprofits, and workforce boards. This last channel has become increasingly important due to the 2014 Workforce Innovation and Opportunity Act (WIOA), which opened the door for federal funding for secondary programs such as COHS that lead to additional workforce training credentials. As a US Representative, Miller, now Sr Education Advisor for Cengage, played a key role in the creation of the WIOA legislation.
"We are thrilled to be a part of SXSWedu," stated Dr. Liebman. "Bringing together academic, corporate, and workforce representatives to build innovative educational solutions is a powerful strategy to disrupt the national dropout epidemic—and the related social and economic fallouts such as increased poverty, unemployment, crime rates, and cost to taxpayers."
The panel started with a look at Detroit, where COHS' recent "Detroit Collective Impact" has used technology to reengage adults back into education—and the workforce. The panel also explored the success of the innovative COHS–McDonald's partnership, whereby McDonald's restaurant employees can earn their accredited high school diploma as an employee benefit.
For more information on the session, visit: http://schedule.sxswedu.com/events/event_PP64483 or follow the hashtag #dropbackin.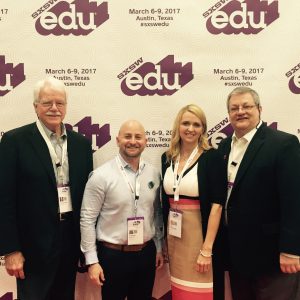 From left to right: Former US Representative George Miller; COHS Founder Dr. Howard Liebman; McDonald's Corporation Director of Education Strategies Lisa Schumacher; and Executive Director of Strategic Alliances at ed2go, a Cengage company, Ron Stefanski.
About SXWSedu
SXSWedu is a component of the South by Southwest® (SXSW®) family of conferences and festivals. Internationally recognized as the convergence gathering for creative professionals, SXSWedu extends SXSW's support for the art of engagement to include society's true rock stars: educators!
About Cengage
Cengage is the education and technology company built for learners. The company serves the higher education, K-12, professional, library and workforce training markets worldwide. Cengage creates learning experiences that build confidence and momentum toward the future students want. The company is headquartered in Boston, MA with an office hub in San Francisco. Employees reside in nearly 40 countries with sales in more than 125 countries around the world. Visit us at www.cengage.com or find us on Facebook or Twitter.