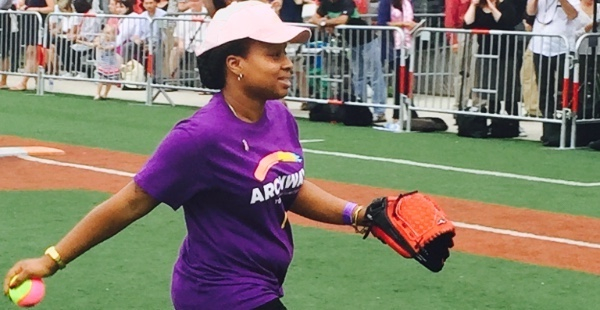 Jayla Reed joins members of the United States Congress and DC Press Corps on the field in Washington, DC.
Last night, Cengage Learning's Career Online High School (COHS) graduate Jayla Reed had the honor of throwing the first pitch at the Congressional Women's Softball Game in Washington, DC. The 24-year old McDonald's employee completed her education through the McDonald's Archways to Opportunity program, which offers free AdvancED/SACS/NCA/NWAC accredited COHS diplomas to eligible employees.
Jayla, a single mother in Akron, Ohio, was the first COHS graduate of a McDonald's franchise. Though she had completed all of her high school courses as a teenager, Jayla could not pass the state exams required for her to receive the actual high school diploma. This past fall, McDonald's finally enabled her to do so.
"I'm so proud of myself," Jayla said at her graduation celebration at the McDonald's where she works. "I'm so excited. It was a journey getting here, but I made it. I did it."
Lisa Schumacher, Director of Education Strategies for McDonald's, commented: "Jayla represents what McDonald's Archways to Opportunity is all about. She not only earned her high school diploma but has already successfully transitioned into college."
Jayla traveled to Washington, DC, with the support of her franchise owner Carl Blickle, to attend this special event along with her daughter and mother.
"It was such an honor to have one of our graduates chosen for this," said Dr. Howard Liebman, Superintendent of Schools for the COHS district. "To see Jayla standing amidst Senators and Representatives of the U.S. Congress and the DC Press Corps made us so proud. It was a well-deserved, hard-earned honor."
The event was the eighth annual Congressional Women's Softball Game. The Members of Congress team played the Washington, DC Press Corps to raise funds and awareness for young women with breast cancer. The DC Press Corps defeated the Members of Congress 8-4.
About Career Online High School
Career Online High School was developed in 2012 through a partnership by Cengage Learning and Smart Horizons Career Online Education, in an effort to provide affordable, career-based online education opportunities for the millions of adults in the United States without high school diplomas. Since its launch, Career Online High School has been recognized as part of a Commitment to Action by the Clinton Global Initiative and acknowledged at the White House College Opportunity Summit. Visit www.careeronlinehs.org to learn more.