Goodwill Industries-Suncoast, Inc. has launched the Fly High program, which offers employees the opportunity to earn an accredited high school diploma and career certificate online, at no cost to the employee. The diploma and certificate are offered by Career Online High School – provided by Cengage, as part of Goodwill's Employee Development program. Student fees will be paid by Goodwill's Tuition Assistance program and a Goodwill Career Navigator will be available to offer guidance to employees throughout the process.
Through Career Online High School, employees can earn not only an accredited high school diploma but a training certificate in areas such as Retail Customer Service, Protection Officer, Commercial Driving, Child Care, Food and Hospitality, and Office Management.
"Our mission is helping people achieve their full potential through the dignity and power of work and for us that starts with our employees. We are committed to investing in the education and professional growth of our team members," said Kris Rawson, Vice President for Workforce Development at Goodwill-Suncoast.
Research shows that a high school dropout will earn $200,000 less than a high school graduate over his or her lifetime, and almost a million dollars less than a college graduate. Thus, earning a high school diploma is a crucial first step in a career pathway, opening doors to employment opportunities or future education.
Witness the inspiring story of the successful Goodwill Career Online High School program in the Great Plains region: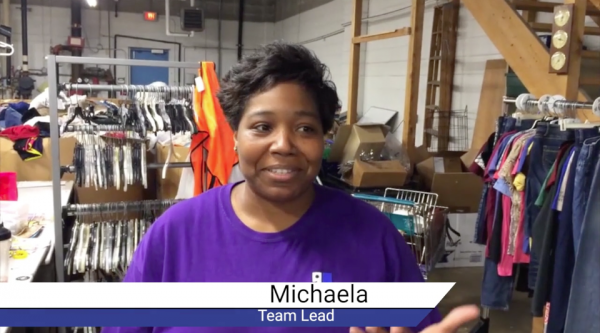 For more information: goodwill-suncoast.org/employee-development
To become a partner: careeronlinehs.org
About Goodwill-Suncoast
Goodwill Industries-Suncoast is a 501(c)(3) nonprofit organization whose mission is to help people achieve their full potential through the dignity and power of work. The organization's successful donated goods retail operation helps support its human services in 10 counties in West Central Florida including employment services, training and job placement for people with disabilities, a children's literacy program, affordable apartment communities for seniors and people with disabilities, and community corrections programs. For more information, visit www.goodwill-suncoast.org.
About Career Online High School
Career Online High School was developed in 2012 through a partnership by ed2go, a division of Cengage that provides students with online continuing education and career training, and Smart Horizons Career Online Education, the world's first private accredited school district. The program offers affordable, career-based online education opportunities for the millions of adults in the United States without high school diplomas. Visit careeronlinehs.org for more information.