On Thursday, Oct. 18, Central New Mexico Community College (CNM) in coordination with the Garza family-owned McDonald's and Rio Rancho Public School District announced plans that could positively impact the direction of education in New Mexico, especially for at-risk students. Students who have completed McDonald's Archways to Opportunity Career Online High School (COHS) program, can receive academic credit at CNM, creating a pipeline for these students to continue achieving educational success at CNM.
The Garza Family also awarded two students from high schools in Rio Rancho each with $2,500 in McDonald's Archways to Opportunity Tuition Assistance. The Superintendent from the COHS program, Howard Liebman, PhD, presented them with their Career Certification. In a few months, these students will also be eligible to graduate with a Rio Rancho Public School District high school diploma through the Rio Rancho School Career Program.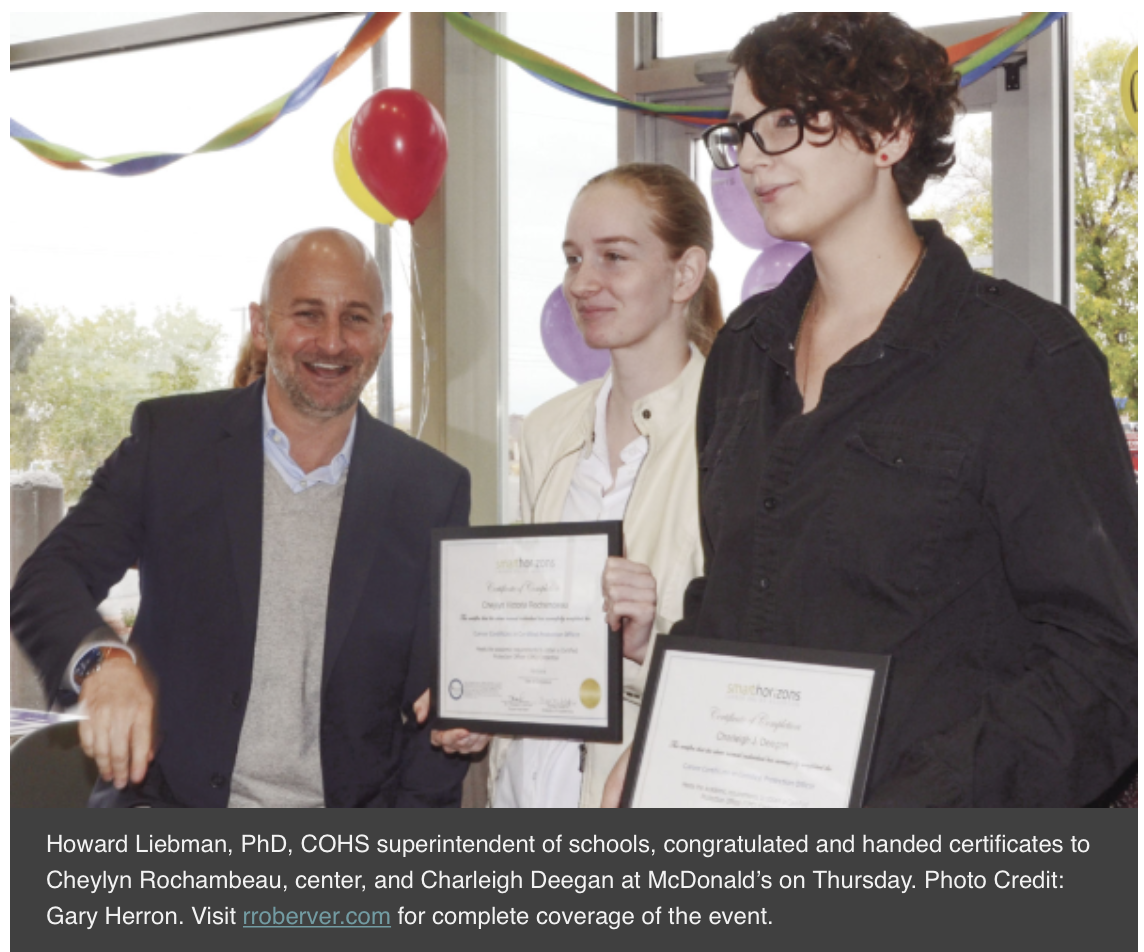 "Our innovative partnerships provide a larger support network for these at-risk students, and provides employment/life skills from a respected global brand," said Clementina "Clemy" Garza, co-president of the Garza McDonald's Organization along with her father, Julian Garza, who are both McDonald's independent franchisees. "We are proud to partner with CNM and the Rio Rancho School District to make education more attractive and attainable for students who may otherwise think that completing high school, going to college, or vocational training is unachievable due to the barriers they face."
"We are thrilled to be partnering with the Garzas to help more McDonald's restaurant employees pursue certificates or associate degrees that can help them advance their careers and improve their prospects for the future," said CNM Vice President for Student Services Eugene Padilla. "This is a great example of a public- private partnership that is helping more people in our communities access higher education, which is the most proven path to a good life. On behalf of CNM, we applaud the Garzas and the McDonald's Corporation for encouraging their employees to get empowered by education."
The presentation of the $2,500 in Archways Tuition Assistance along with more information about the accelerated educational pipeline to CNM took place at the event on Thursday, Oct. 18 at one of the Garza's McDonald's at 2109 Southern Blvd. in Rio Rancho, NM. School Board members and school administrators, CNM, Rio Rancho Career Tech Executive Committee members, McDonald's representatives, and local dignitaries including State Rep. Jane Powdrell-Culbert spoke at the event.
About Garza McDonald's Organization Education Efforts:
A year ago, the Garza McDonald's Organization joined with the Rio Rancho Public School District to create a Rio Rancho School-to-Career partnership to give high school students, at risk for dropping out, a chance to succeed. Because of this unique partnership, School-to-Career students receive high school credit for their work at McDonalds, receive a high school diploma, and a career certification in one of ten career pathways.
School-to-Career students will have the opportunity to apply to CNM for Credit for Prior Learning (CPL) for some of the career certificate classes they took through the Career Online High School in partnership with Rio Rancho Public Schools – a free program through McDonald's Archways to Opportunity initiative. Currently the CNM CPL option is available for all Garza Organization's restaurant employees who have completed specific training programs and some of the career certification paths through Career Online High School. CNM is working to continue to expand this CPL opportunity for more programs.
About McDonald's Archways to Opportunity
McDonald's Archways to Opportunity program offers several avenues for eligible US restaurant employees to further their education such as English as a Second Language and Tuition Assistance. Eligible restaurant employees and their immediate family members are also able to access Academic Advising and the Career Online High School which allow them and their family members to earn an accredited diploma and a career certification. More information is available at www.archwaystoopportunity.com.