Improved student portal means better learning experience for students
Smart Horizons Career Online Education (SHCOE) is excited to announce that our new and improved Learning Management System (LMS) will launch June 8, 2018. The redesigned student portal includes enhancements to enrich the student learning experience. All SHCOE students will benefit from this upgrade, which will make their educational experience more engaging, relevant, and accessible.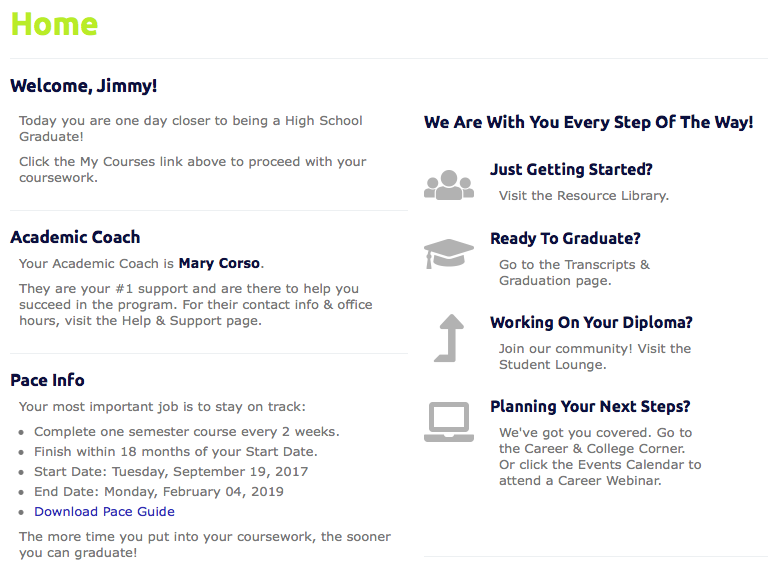 Upon log in, students will see a streamlined LMS that is easier to navigate with better content and resources. (The actual classes will not be affected.) Improvements include:
New coach directory with one-click contact options
Pacing and date info to help students stay on track
Newly designed look and feel
Better navigation
Updated resources to help learners be successful
"Career & College Corner" to help with planning next steps
Student Lounge to enhance the feeling of community
Clear info on transcripts, transfer credit, and graduation
In our ongoing commitment to continuous improvement, the SHCOE team collected feedback from stakeholders including students, coaches, staff, and partners to identity areas of priority. This initiative also supports our 2020 Vision and Strategic Goals:
Innovate
Enhance our offerings to meet the evolving demands of 21st-century students.
Collaborate with stakeholders to generate new ideas—and to keep their ability to meet their constituents' needs on the cutting edge.
Engage
Enhance the student experience through constant innovation and initiatives.
Increase stakeholder satisfaction through new outreach initiatives.
We look forward to a seamless launch and are here to offer support as needed:
For questions or help, students can contact their academic coach.
To offer feedback or ask questions about the new LMS, please email: media@shcoe.org.