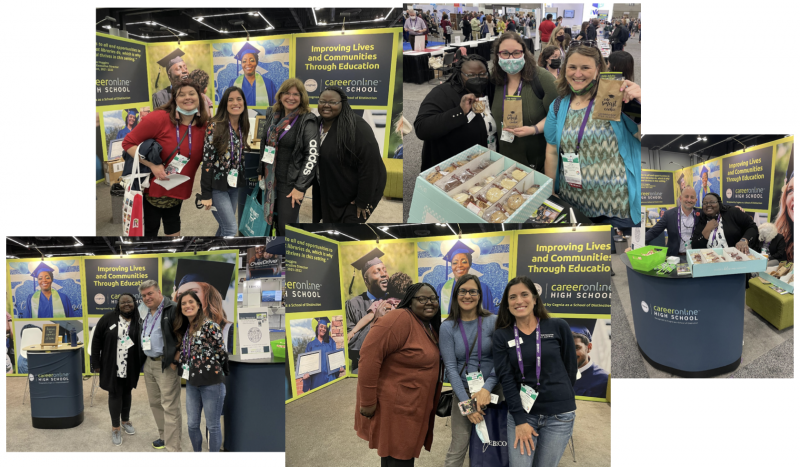 Librarians shared how COHS and public libraries work together to re-engage adults into the education system
At this past week's Public Library Association (PLA) 2022 Conference, hundreds of librarians joined a discussion focused on removing the barriers that exist for adult education.
The panel of experts, led by Rivkah Sass, Director of Strategic Library Partnerships at Smart Horizon Career Online Education (SHCOE), included Leila Heath, Director of Library Resources and Programs at Reaching Across Illinois Library System (RAILS); Casey Wallace, Staff Engagement Manager at Gwinnett County Public Library; and Diane Luccy, Business and Careers Manager at Richland Library.
The panel provided a holistic overview of Career Online High School's (COHS) partnership with more than 1,800 public library locations around the U.S. During their discussion, the panelists shared the unique challenges adults face reentering the education system—and how, together, COHS and libraries help them overcome those barriers to reentry.
Delivering on diversity, equity, and inclusion goals
In particular, the panelists discussed the role libraries play in driving greater diversity, equity, and inclusion (DEI) in their communities.
"Most libraries have a team dedicated to working on diversity, equity, and inclusion," noted Sass. "A program like this really impacts your work with DEI."
"The majority of our students are parents, primarily mothers," said Wallace. "81% of students are people of color."
"Over 70% of our students are women; many are minorities," said Luccy. "Our students are resilient. We have a student enrolled who was a mother at 14. Now, at 19, she has three children to care for. When you hear stories like this, and what a high school diploma means to students, it reinforces how this program opens doors for entire families."
Why COHS? Why libraries?
During the discussion, the panelists examined what sets the COHS program apart, why partnering with libraries works, and how the partnership helps adults overcome specific barriers.
"Libraries connect people with vital resources," said Wallace. "When you explain that the library has a program that connects adults with a high school education, it makes outreach so effective. You have something that community stakeholders instantly recognize as having an impact."
"Libraries are also effective in helping students navigate the process," shared Heath. "Librarians are trained to get at the heart of the question. Most of the time, the question being asked is not the question someone needs to have answered, especially when it is someone who feels vulnerable and nervous about a new experience. People have a level of comfort and familiarity with libraries and so if they have had a negative experience in a school setting, the library is a place that makes them feel comfortable and at home."
Making an impact—on individuals and the community
The panelists also discussed the myriad COHS graduate success stories that have had a ripple effect across their communities.
Richland Public Library has seen six family members participate in the COHS program. At another library, the majority of its students are mothers setting examples for their children, showing them it's never too late to earn your high school diploma. Still other students have met Deferred Action for Childhood Arrivals (DACA) program requirements while enrolled in COHS through the library. "The panel paved the way for a week of meaningful discussions with existing and prospective partners," said Dr. Howard Liebman, Superintendent of SHCOE. "Our team was thrilled to connect with so many library team members who are making a difference in their communities