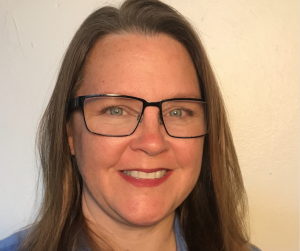 In Coach Sandy Tilton, Students Can See Themselves—And, a Beacon of Hope for a Bright Future
---
Sandy Tilton did not follow a traditional educational path—something that helps her connect with her students. After marriage and raising five children, she finally focused on achieving her own goals. She now supports Smart Horizons students in setting—and achieving—theirs.
---
Sandy grew up in one of the most beautiful little towns in Florida; the nation's oldest city, St. Augustine. She had a happy childhood but did not follow the same educational path of so many of her friends—"life got in the way."
Married at 19 and a mother at 22, Sandy worked and went to school part time. Soon her family became her main focus. "I had five children, and getting affordable childcare was a big challenge—something many of my students now struggle with. I put my education on the back burner."
Sandy was 43 when she finally earned her associate's degree. "It took me 25 years to get my 2-year degree," she says.
At the age of 45, she received her bachelor's degree in elementary education.
"At one point in my life I didn't think I was going to bother earning my four-year degree. Then I thought I was just too old to even try. It took one of my professors saying to me, 'Look—you are going to be 45. You can't change that. Whether you are a 45-year-old with a college degree or without a college degree—you CAN change that.' I finally figured if I wanted my children to reach their full potential that I should as well."
After earning her BS in education, Sandy taught middle school for five years before becoming joining Smart Horizons Career Online Education as an academic coach. Sandy had finally discovered her life's passion—all her personal and professional experiences came together.
"I can really relate with my students, and hope I convey an understanding of what they're going through," Sandy says. "Many of them are dealing with real life challenges that make it difficult to focus on the goal of earning a high school diploma. My job is to help keep them motivated and let them know that no matter what, they are capable."
She says the best part of her day is when a student calls to let her know about passing a test or completing a section they were struggling with. "I love when they share their successes with me. For the short time that I can work with them, they become my family and I worry over them as I do my own family. The absolute best is when I see that they have completed the program and they already have their sights set on the next goal."
Sandy helps her students navigate their way through challenges to find the individual path that is right for them. "As a new teacher, I was taught about a 'growth mind set,'" Sandy explains. "Not everyone is going to understand the same material at the same time. I remember being so frustrated in school because I didn't understand what others found to be so simple. It was easy to give up not knowing that I could understand in my own time. My path was not the same as others and neither are the paths of my students."
In her welcome call she tries to help her students get motivated. "Having a specific goal is so important. It is easy to get lost and frustrated when you can't see what it is you are working for," she says. "Once my students can envision an end goal, it helps them understand that their aspirations can be achieved. In fact, I recommend that they all create a vision board."
Sandy tries to get to know every one of her students. "Each one of my students has a unique challenge," she says. "I love helping students overcome those challenges by finding creative ways to get around them."
Sandy's first graduation with her students—who live all across the country—will be in June. She will travel to California to meet them face-to-face. "This is such an exciting trip for me," she says. "I am so proud of all they have achieved!"