Cleveland Residents Are Eligible for Scholarships to Earn Accredited Diplomas and Career Certificates 
Cleveland, OH, July 24, 2018 — Angela McElrath is the latest Cleveland resident to earn her high school diploma through Cengage Learning's Career Online High School (COHS) offered by OhioMeansJobs | Cleveland-Cuyahoga County (OMJ | CC). OMJ | CC partnered with COHS in December 2016 in an effort to help expand workforce and educational opportunities for the 23% of Cleveland adults who lack a high school diploma.
COHS is brought to Cuyahoga County residents by OMJ | CC through federal funding from the Workforce Innovation and Opportunity Act and other funding. The program is offered at no cost to residents.
Designed to reengage adults into the education system, COHS helps prepare students for entry into post-secondary career education and better job opportunities. In addition to an accredited high school diploma, COHS graduates earn a credentialed workforce certificate in areas such as Child Care, Hospitality, Commercial Driving, Food Services, Retail Customer Service, Office Management, Certified Protection Officer, and Home Care Professional, which is coming soon.
McElrath was recognized in a June 22 ceremony in Cleveland, attended by family, friends, supporters, and Ohio Means Job staff and leadership. She gave an emotional tribute to her family, thanking them for supporting her.
"My reason for wanting to finish is that my youngest daughter would come to me and ask me for help with her homework—and I was not able to help her," shared McElrath. "So I told myself that I needed to go back to school so I would able to help my daughter."
"It was hard for me. I was working, and being a mom and a wife. There were times where I wanted to give up, but I kept on pushing. I was determined to get my high school diploma. And I did."
McElrath, who now works as a home health aide, next plans to enroll in college to pursue her Certified Nursing Assistant (CNA) credential. She joins the nearly 80% of COHS graduates who intend to enroll in further vocational or post-secondary education.
"Not having a high school diploma is a barrier to employment," said Grace A. Kilbane, Executive Director of the Cleveland/Cuyahoga County Workforce Development Board and OMJ | CC, who attended the ceremony. "We are excited to offer this online high school diploma and career certificate to our clients seeking a better job and a better career outlook. We are dedicated to connecting residents with jobs and technical training that can lead to employment."
"We are proud to partner with OMJ | CC to provide a second chance to those like Angela who are committed to earning their high school diploma as a pathway to a brighter future," said Dr. Howard Liebman, District Superintendent of COHS' district. "Career Online High School builds confidence and opens doors to more opportunities. We are thrilled to witness Angela's success and perseverance."
The Cleveland/Cuyahoga County Workforce Development Board awards scholarships for COHS to qualified residents 18 years and over who want to earn a high school diploma and advance their careers. Once enrolled, COHS pairs each student with an Academic Coach, who assists with developing an individual career plan, offers ongoing guidance and encouragement, evaluates performance, and connects the learner with the resources needed to demonstrate mastery of the course material. Classes are supported by board-certified instructors and students have 24/7 access to the online learning platform.
To Learn More:
Residents age 18 to 24 visit ed2go.com/OMJCCyouth
Residents age 25+ visit ed2go.com/OMJCC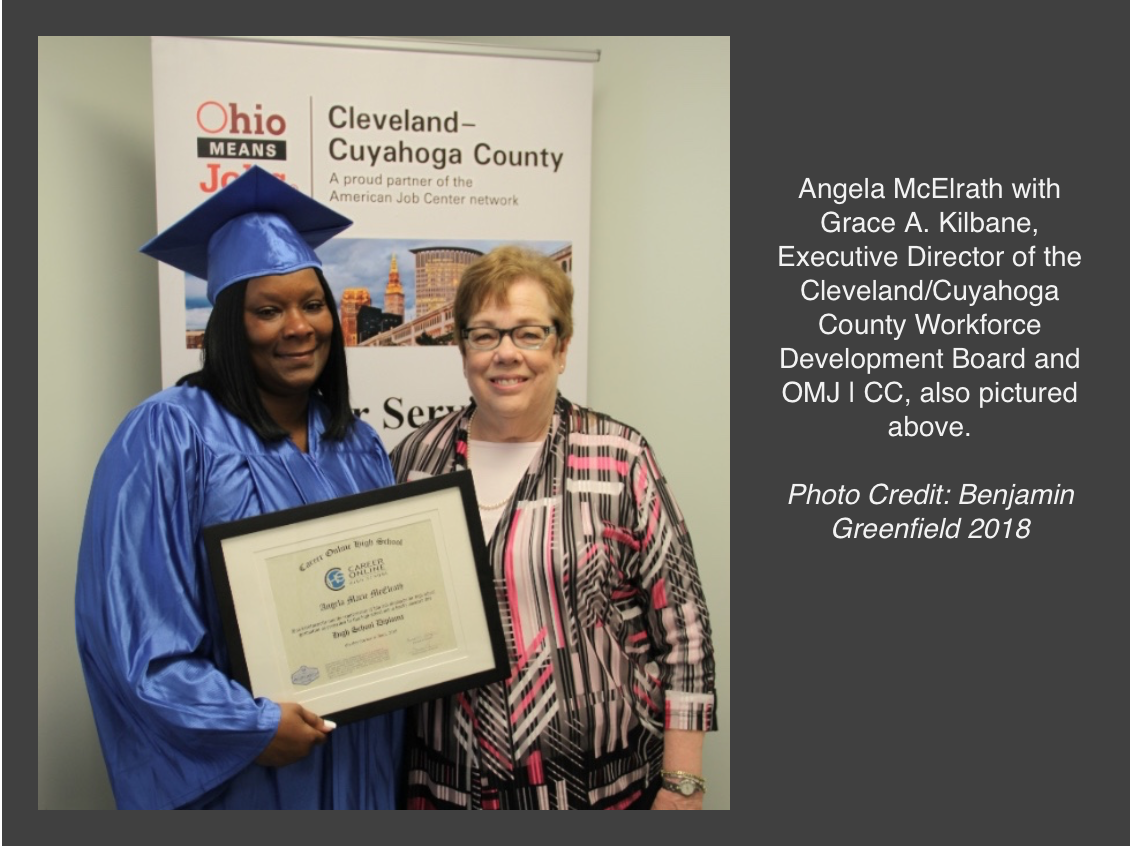 About OhioMeansJobs|Cleveland-Cuyahoga County (OMJ|CC)
OMJ|CC provides qualified candidates to businesses/employers and assists job seekers in matching up with career pathways and career training opportunities. Through these efforts, over 4,200 individuals found new employment and over 600 entered career technical training last year for skills that are in-demand. Services are at no cost to businesses or individuals. Learn more at OMJ|CC's website:
ohiomeansjobs.com/cuyahoga
.
About Career Online High School
Career Online High School was developed in 2012 through a partnership by ed2go, a division of Cengage that provides students with online continuing education and career training, and Smart Horizons Career Online Education in an effort to provide affordable, career-based online education opportunities for the millions of adults in the United States without high school diplomas. Please visit
careeronlinehs.org
for more information.
Photo Credits: Benjamin Greenfield 2018