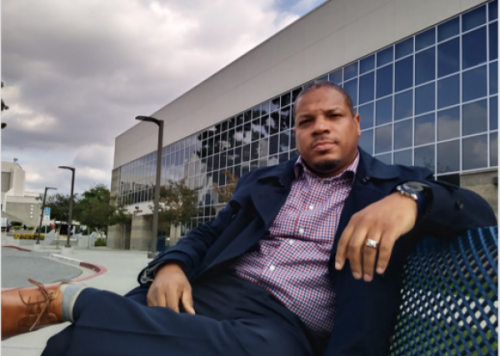 Maurice Tanner dropped out of high school in South Los Angeles in the early '90s. Now, a high school graduate through the Los Angeles Public Library's Career Online High School program, he's setting an example for his children, earning his college degree, and aspiring to become an advocate for underserved communities once he earns his law degree.
Here, he shares his story with us:
"I've always felt bad about not graduating in 1992 when I was supposed to. I made it to my senior year of high school but was not motivated or pushed enough at home or school to finish strong. My school was located in South Los Angeles and was plagued with violence and bad peer influences. My study habits were bad and there was too much happening in the classrooms to learn. Although my parents received graduation cards from other family members, they never asked me about my graduation dates. My parents didn't attend college and not knowing anything about the college process I assumed they didn't have the money to send me anyway; therefore, I never brought it up. When school finished, I got a job.
I had lied about graduating high school and college on my resume for years, but I always held a guilty feeling about it inside. Life went on and then I had children of my own. Before I knew it, my son was graduating high school and going off to college. While I was proud of him I realized how much time I had let pass. Then I made a promise to myself I that I would get my high school diploma before my son graduated college—to prove to myself that I could do it, to prove to my children that anything is possible if you try, and to pursue my dreams of going to college.
I looked into night school but most of them weren't offered anymore. A few more years passed by and that's when I saw the flyer for Career Online High School (COHS) at my local library. I inquired about it, and the rest is now history.
In completing the COHS online education program not only did I learn about my career elective Child Care and Education, but I was able to learn and refresh myself on subjects that I missed or didn't pay attention to in high school. I learned about time management by communicating with my academic coach Ms. Kimberly Sher, who cares greatly about her students.
Now at 44, I am a high school graduate and enrolled as a full-time student at Los Angeles Trade–Tech College in Los Angeles, CA. I plan on pursuing my education in Childcare and Education, earning a law degree, and becoming and advocate for underserved communities."
—Maurice Tanner
Career Online High School Graduate
January 2019