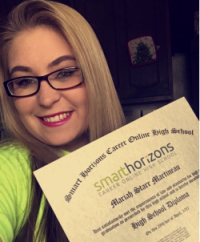 Mariah Martineau got pregnant in the middle of high school. Thanks to Smart Horizons Career Online High School, Mariah earned her diploma and CDA credential, and was able to graduate from Manatee County Public Schools. Mariah is now fulfilling her passion for working with children as a teacher at a local preschool that is part of one of the nation's largest educational companies. Next, Mariah plans to enroll in Manatee Technical College to continue advancing her education and career.
---
"I wanted to show my son that anything is possible if you put your mind to it," said Mariah.
The future didn't always look so bright for the now 19-year-old Bradenton, Florida, resident.
When Mariah found out she was expecting a baby, she wasn't sure she would be able to juggle a difficult pregnancy and then a newborn, as well as her schoolwork.
"There was no way I could continue going to my public high school. Child care was too expensive, and I wanted to be with my baby," she said. "But I most certainly did not want to be a high school dropout."
A school guidance counselor in the School District of Manatee County, where Mariah attended Braden River High School, recommended Smart Horizons Career Online High School to help Mariah achieve her goal.
"Smart Horizons was a perfect fit for me in my situation" said Mariah.
Mariah was able to complete the program online, at home, during her son's naps. Her family and her fiancé also pitched in to help her with babysitting and caring for her new baby boy so she could focus on her studies.
"I'm a self-starter and I always worked better independently. Learning online was great for me. My Academic Coach was very responsive and proactive. She gave me great tips and kept me on track with reminders and positive and thoughtful encouragement."
For Mariah, earning her self-study Child Development Associate (CDA) credential was a key factor in her success finding a job in the education field. She was hired as a teacher at a Bradenton preschool/day care that is part of one of the nation's largest educational companies. She is earning a good income, has a flexible schedule, and can bring her son with her to work.
"I definitely would not have landed my current position as a teacher if I didn't take the time and energy to complete my CDA. It took me 8 long months. But it was so well worth it!"
In addition to providing a pathway to her dream career opportunity, Mariah intends to use her high school diploma and certificate to continue her education at her local community college. "I plan to go further in school starting at Manatee Technical College, maybe doing online classes."
Mariah is proud that she was able to graduate on time and walk with her class. "That was really special. Seeing my family and my baby out there was so emotional for me," she said. "It made all of the hard work and sacrifices worth it."
She urges other in her situation not to give up hope or become a statistic.
"For the teen moms who feel like it's too hard, just don't give up no matter what! Because in the end it's worth every second and every minute spent when you get your diploma. It makes you feel so good inside as a person knowing you will build a better life for your child!"