Detroit adults earn accredited high school diploma and workforce certificate as pathway to career and educational opportunities
Matrix Human Services recently celebrated its newest class of Career Online High School graduates. Offered to Detroit adults in need of a high school diploma, the program is made available at no cost to students and includes an entry-level workforce certificate in one of ten vocational areas.
The innovative program provides a direct pathway to vocational training, employment opportunities, and post-secondary education. For example, upon graduating, students can enter a manufacturing training class through Matrix to obtain industry recognized certifications and qualify for employment—and Matrix then helps with job placement. In addition, students graduating in 2020 or after may be eligible for free tuition at Wayne State University, through the university's Heart of Detroit Tuition Pledge.*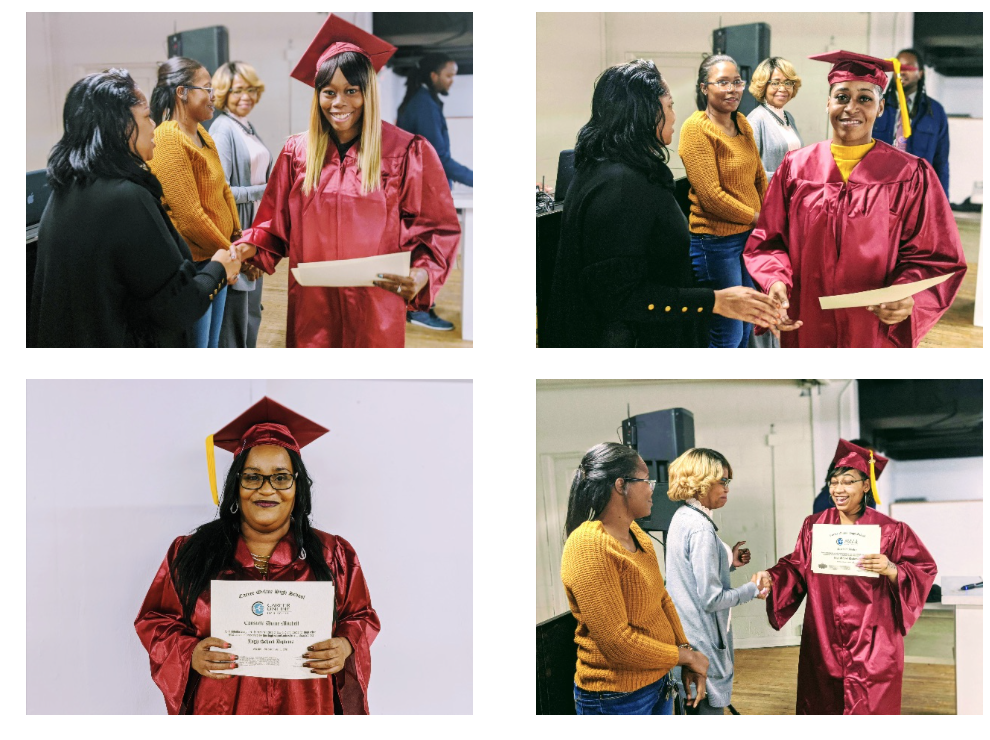 "Adults making the effort to get their high school diploma, while at the same time balancing work and family obligations, shows a level of commitment that will lead to future success," said Brad Coulter, President and CEO of Matrix Human Services. "A diploma opens all kinds of doors that were not previously open for our clients."
Thanks to the program's positive outcomes, Matrix has secured a United Way grant for 50 additional students, with more waiting to get in. Matrix Career Coach Ronald Norwood attributes the program's success to its high-level of support, including an orientation to set expectations, help accessing Internet and equipment, frequent and ongoing contact from academic coaches to boost morale and help students stay on track, and academic support as needed.
"You can start here and go anywhere," said Norwood. "This program is making a big difference in people's households."

About Matrix Human Services
Detroit-based Matrix Human Services is a 113-year-old, 501(c) (3), social services organization committed to helping children, teens, adults and seniors reach self-sufficiency through offering positive hand-up life experiences. Matrix is helping to rebuild Detroit's neighborhoods through the efforts of over 550 employees at more than 50 program locations throughout the city. As one of the largest non-profits in Southeast Michigan, Matrix currently provides assistance to more than 20,000 people annually by offering essential needs, education, and supportive services that defuse crisis, treat individuals and family problems, prevent abuse and neglect. For more information, visit matrixhumanservices.org.
About Career Online High School
Career Online High School was developed in 2012 through a partnership by ed2go, a division of Cengage that provides students with online continuing education and career training, and Smart Horizons Career Online Education in an effort to provide affordable, career-based online education opportunities for the millions of adults in the United States without high school diplomas. Please visit careeronlinehs.org for more information.
*Smart Horizons Career Online Education and Career Online High School have no affiliation with Wayne State University or their tuition pledge and cannot guarantee that students will be granted admission or free tuition. Students must meet additional eligibility requirements to qualify. Visit Wayne State University's website for information.