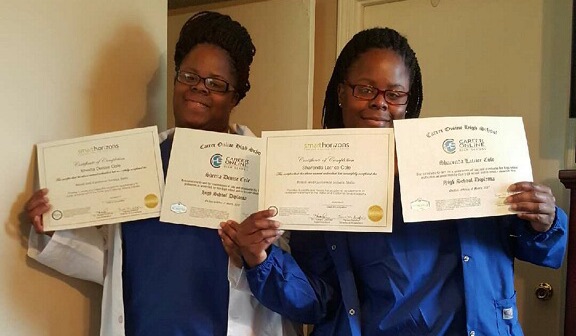 Went on to college to pursue careers in the dental and nursing fields—
Sherita and Sharonda Cole, 28, are the first in their family to go to college.
"Growing up, our mother became ill. We were forced to drop out of school and go to work," the sisters said. "Our dreams sort of got pushed to the side."
Now their dreams are back on track—and they have goals for themselves that they never dared to imagine while growing up in the rural South. After graduating from Career Online High School (COHS), the twins both enrolled in college to pursue careers in the medical field. Sherita is studying toward becoming a pediatric psychology nurse, and Sharonda is enrolled in the dental assistant program.
"This program opened our eyes to re-explore the opportunity of earning our high school diploma in a flexible and supportive setting, so we could move forward with college and eventually have a professional career," Sherita said.
It wasn't easy…
While working toward their diplomas, Sherita was parenting on her own and had two children under three years old. She also was in the middle of a high-risk pregnancy and had to undergo a complicated and dangerous surgery. "The only other way to earn my high school diploma would have been to go to a campus setting, and with my health situation and my children, this was not an option," she said.
Sharonda agreed. "It would also have been extremely difficult for me to work and attend a brick-and-mortar school. I have some comprehension and learning issues. I tried getting my GED in the past, but a classroom setting with 30 students where you do not get any individual attention did not work well for me."
The women finally found success with the COHS program. "COHS was exactly what we needed. We had a flexible schedule so we could work and Sherita could take care of her kids. I am a night owl, and I was able to study after hours."
Sharonda continued:
"The coaches are so supportive. They were always there for us, especially for me. It felt like they were always reachable, they could really relate to our situation, and they respected us. Sherita and I were both really surprised at how much more attention and support we got online than we ever did in any classroom."
At COHS, the women also learned some real-world skills. Sherita said she learned a lot about the human body and various diseases, and some tips she continues to use in her everyday life and parenting, such as drinking less soda and more water.
They also gained time management and organizational skills that have helped them in college, work, and parenting.
"Not only did I earn my high school diploma, but I learned patience and how to manage my time. I use these skills in my everyday life, and in college," Sherita said.
She now feels she is a better role model for her family, and that she can one day achieve her dream of becoming a nurse.
"It's tough but it is worth it, and without our high school diplomas we wouldn't be on the path we're on today!"