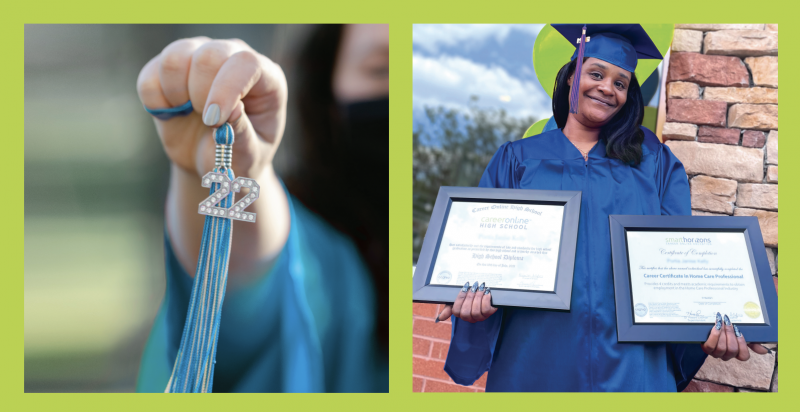 Happy New Year to all of our partners, staff, friends, students, and graduates. As we head into 2022, we want to take this opportunity to share some of the successes of 2021!
The SHCOE district was recently granted the Cognia mark of distinction, which identifies schools and systems that best exemplify excellence in education and stand out in their service to learners. We also earned our 5-year reaccreditation earlier this year!
More than 12,500 graduates have earned their high school diplomas to date. That's 12,500 lives transformed through education! This includes 1,600 who persevered through the pandemic to graduate in 2021.
Over 1,800+ public library branch locations now offer Career Online High School (COHS) to adults in their communities at no cost to their patrons. In fact, libraries in Florida and California are actively recruiting students for COHS scholarships. (Interested residents can visit our Florida site or California site to learn more.)
McDonald's recently celebrated 1,500 COHS graduates (see Portia Kelly pictured above!) and Banfield Pet Hospital has just launched the program for employees. We applaud the corporate partners who are providing their employees access to our accredited high school diploma. Stay tuned for another big partnership announcement later this month!
The SHCOE student learning experience has gotten even better, thanks to enhancements such as ELL translation tools so the program can be completed in any language, expanded career resources through the launch of Career Cruising, and 100% mobile- and tablet-friendly courses!
Of course, our most important successes are those of our students. Students like Jeannette, who went on from COHS to earn her bachelor's at the University of Phoenix, persevering in spite of losing her husband to COVID—and who is now starting her master's degree. Angel and Shante, who graduated through their local library, and are using their diplomas to advance in health care careers. And first-generation American Marvin, who paved his way to high school graduation thanks to his employer, McDonald's.
Lastly, a big shout out and thank you to our Academic Coaches who are there on the front lines, supporting students every day. Coaches like Kelley, Adrienne, and Nia, who help traditionally marginalized students succeed, empowering adults of diverse backgrounds to overcome educational trauma and graduate.
Thank you for being part of our successes in 2021. Join us for the successes and triumphs of 2022!