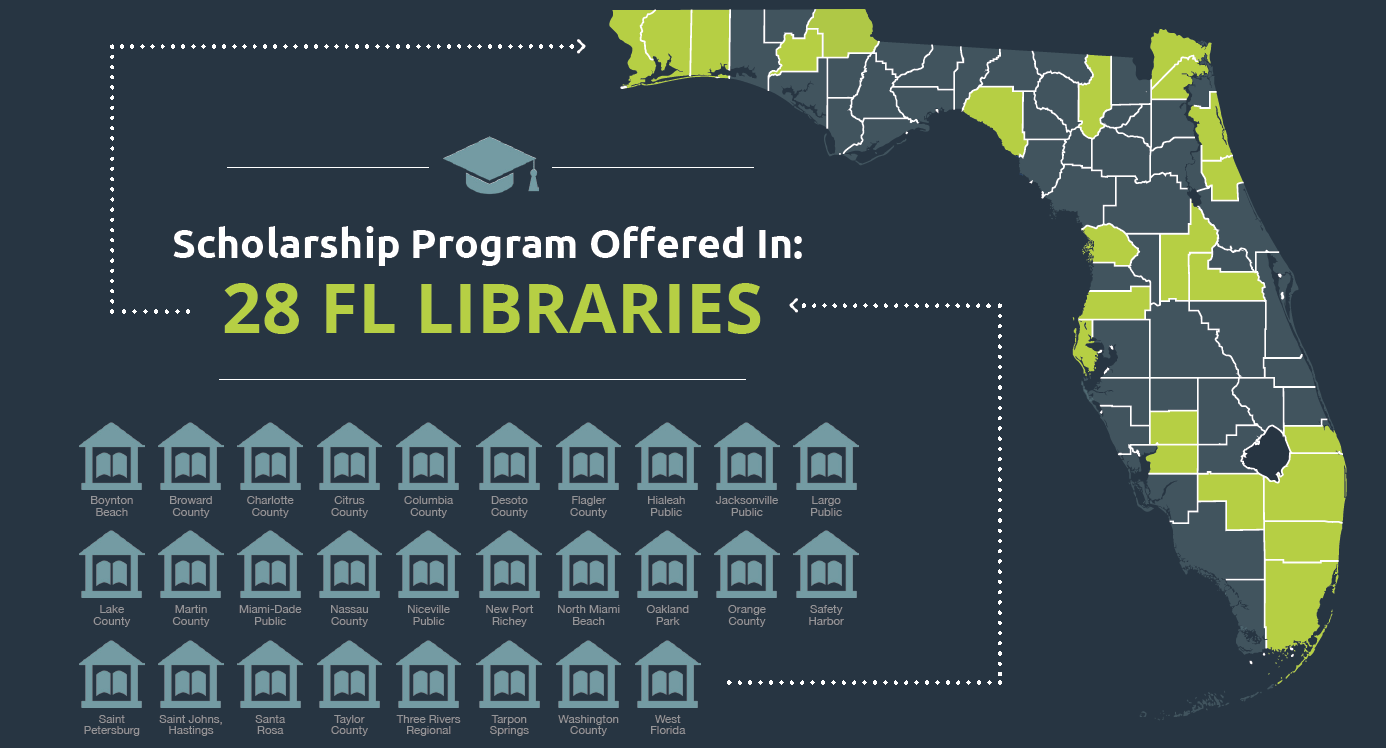 Smart Horizons Career Online Education today announced that the first 100 students have graduated from Career Online High School through Florida public libraries. Career Online High School provides qualifying Florida residents the opportunity to earn a free, private, accredited high school diploma. The program is offered to residents by the State of Florida and is administered by Smart Horizons Career Online Education through a partnership with Gale, a Cengage company.
Per the U.S. Census Bureau, more than 1.2 million Florida residents ages 25 to 44, or 12.1 percent of the working-age population, do not have a high school diploma. Lack of high school completion severely limits individuals' career and financial outlook, and has a significant economic impact on Florida. The State began offering Career Online High School to re-engage adults back into the education system as a first step to increasing their opportunities in the workforce.
The program launched in 2015 in 11 Florida public library systems and quickly expanded to 17 additional libraries in 2016, due to increasing demand. The participating libraries award scholarships to qualified learners. Students can complete the program using library computers, or from home. Concurrently with the diploma, students earn a workforce certificate in one of eight trades (in areas ranging from protection officer to customer service to commercial driving).
Single mother of two Christine Flournah, who graduated this month through Hendry County Libraries, said the program worked for her due to its flexibility. "I didn't have to change my schedule," she explained.
Christine completed a Child Care certificate, and used the certificate immediately to apply for a position in a day care.
"I wanted to finish high school so I could get a better job," she said. "By learning a trade I'll get more offers in a professional field—and better hourly pay."Each Career Online High School student is paired with an academic coach who offers ongoing guidance and encouragement, evaluates performance, and connects the learner with the resources needed to demonstrate mastery of the course material. Classes are supported by state board certified instructors, and students have 24/7 access to the online learning platform. Some students are able to graduate in less than a year by transferring in previously earned high school credits.
"I gained knowledge from the program," shared Christine, who said she would recommend the program to others. "You're never too old to better yourself—and it's never too late to continue your education."
Interested Florida residents can visit careeronlinehs.gale.com/fl to learn more about the program, and see the complete list of libraries offering it.
For a look at the numbers, see our infographic.
View testimonials from students and libraries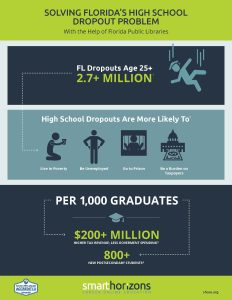 About Smart Horizons Career Online Education
Smart Horizons Career Online Education, founded in 2009 and based in Fort Lauderdale, Florida, is a private, AdvancED/SACS/NCA/NWAC accredited online school district. District accreditation signifies that SHCOE and all of its schools are fully accredited and that SHCOE is recognized across the nation as a quality school system. SHCOE offers 18-credit, career-based high school diploma programs that are designed to prepare students for entrance into the workplace. Career certificate offerings include Child Care, Office Management, Protection Services, Homeland Security, Commercial Driving, Retail Customer Service, Food and Hospitality, and General Career Preparation. For more information, visit shcoe.org.
About Career Online High School
Career Online High School was developed in 2012 through a partnership by ed2go, a division of Cengage that provides students with online continuing education and career training, and Smart Horizons Career Online Education in an effort to provide affordable, career-based online education opportunities for the millions of adults in the United States without high school diplomas. In 2014, the program was adapted for the public library market by Gale, a Cengage company. Since its launch, Career Online High School has been recognized as part of a Commitment to Action by the Clinton Global Initiative and acknowledged at the White House College Opportunity Summit. Please visit careeronlinehs.org for more information.
About Cengage and Gale
Cengage is the education and technology company built for learners. The company serves the higher education, K-12, professional, library and workforce training markets worldwide. Gale, a Cengage company, provides libraries with original and curated content, as well as the modern research tools and technology that are crucial in connecting libraries to learning, and learners to libraries. For more than 60 years, Gale has partnered with libraries around the world to empower the discovery of knowledge and insights – where, when, and how people need it. Gale has 500 employees globally with its main operations in Farmington Hills, Michigan. For more information, please visit www.gale.com.